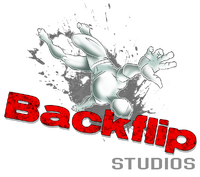 Backflip Studios
is the videogame company who created and published DragonVale. It was founded in April 2009. They are best known for the game Paper Toss, which has had 24 million downloads.

You can visit their site here And the wiki here.
Backflip Studios was founded by Julian Farrier, Tom Blind and Dale Thoms in April 2009. By August 2009 they had gained $145,000 to keep designing games for the iPhone. So far they have developed and produced 18 mobile games.
Since they were founded, in April 2009, Backflip Studios has developed and produced the following mobile games:
Paper Toss
Ragdoll Blaster
Tunnel Shoot
Mahjongg Dimensions
Harbor Havoc 3D
Strike Knight
Ragdoll Blaster 2
NinJump
Buganoids
Paper Toss: World Tour
Graffiti Ball
Backflip Slots
Shapeshift
NinJump: Deluxe
Army of Darkness: Defense
Boss Battles
Backflip Solitaire
DragonVale
Glow Bugs
Remembird
Paper Toss 2.0
Ragdoll Blaster 3
Bounce the Bunny
Gizmonauts
Many of their games have reached the App store's best selling list.
Many of their games, such as Army of Darkness: Defense, DragonVale, NinJump, and Paper Toss have been released for the Android version.
Contact Information
Edit
Backflip Studios' Support Page
Email addresses for issues:
support@backflipstudios.com
androidsupport@backflipstudios.com
---