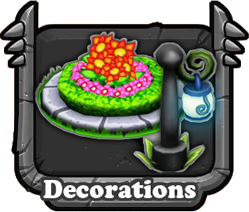 Decorations are used to give your park a little life and add to the general aesthetics of your islands and habitats. The gaming purpose of Decorations seems to be solely for

and to attract more visitors (which does not do anything at the moment).
Subcategories
This category has the following 11 subcategories, out of 11 total.
Pages in category "Decorations"
The following 200 pages are in this category, out of 495 total.
(previous 200) (
next 200
)
1

2

3

4

5

6

A

B

B cont.

C

D

E

E cont.

F

G

H
(previous 200) (
next 200
)