Habitats
Talk

8
462pages on
this wiki
Category page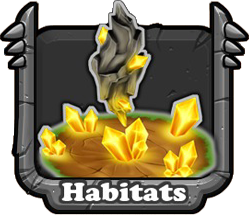 Once hatched, dragons must be placed either into a habitats or into the Hibernation Cave. Different types of Habitats exist for each different element, and a dragon must be placed into a Habitat that corresponds with its own element. Dragons with more than one element can be placed in any Habitat that is for one of their elements.
Subcategories
This category has only the following subcategory.
Pages in category "Habitats"
The following 49 pages are in this category, out of 49 total.
A

C

D

E

F

G

G cont.

H

L

L cont.

M

N

O

P

R

S

T

W