Standard - Holiday 2012
---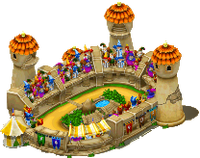 "

Behold the Dragon Track! After observing numerous dragons racing one another in the wild, the wizards thought that it would be fun to bring the races to your park. Help your dragons win races to earn generous rewards. The Colosseum may be where champions are made, but the Dragon Track is sure to have visitors flocking to your park in droves!

"



 

— Game Description 
| | |
| --- | --- |
| Cost | 250,000 |
| Experience | 50,000 |
| Sells for | 125,000 |
| Available | Level 15 |
| Size | 9x6 |
| Build Time | 4 hours |
| Cost to Race | 50,000 |
Races
Unlike the Colosseum, you can access this event as many times as you want a day. However, it will cost you 50,000 dragoncash each time you participate. 
There are both common and uncommon elements to the tracks. The common elements are the ones that appear the most, while uncommon elements have an extra element added into the particular track. If your dragon's elements match the track, it will run or fly faster in those areas. Please be aware that a stretch of sand is not an Earth element section, this is a neutral section of track that has no element.
| Track | Common Elements | Recommended Dragons |
| --- | --- | --- |
| Tutorial | | Seaweed Dragon, Swamp Dragon |
| Blast Furnace | | Forge Dragon, Brass Dragon |
| Cherry Road | | Sakura Dragon |
| Dramoria | | Steel Dragon, Mine Dragon, |
| Electric Skies | | Sonic Dragon,Thunder Dragon |
| Marshlands | | Swamp Dragon, Seaweed Dragon, Tree Dragon, Moss Dragon |
| Rime or Reason | | Snow Dragon, Blizzard Dragon |
| Shimmering Faultline | | Quake Dragon, Crystal Dragon |
| Ulster Meadows | | Tree Dragon, Clover Dragon, Moss Dragon, Forest Dragon |
| Year of the Dragon | | Panlong Dragon |
If you do not own a recommended dragon, use one with at least two elements that match the track (ie Love Dragon or Tree Dragon for Cherry Road). Using any Epic or Gemstone dragon is also a good alternative. Also do not choose a dragon that has an opposite element (i.e. on Dramoria, Brass Dragon will be slower than Iron Dragon because Brass Dragon has the fire element). If you do the tutorial the event will change; if you are first, second or third.
The track selected for the tutorial is always Marshlands.
Note that if it says "Track cleaning in progress", you have to wait a few seconds before you can play again.
If your dragon places worse than third, the race event will not change.
The starting line is counted as one of the yellow lines that give speed boosts, so if you tap at the moment when the number one nearly goes away it is possible to get an initial speed boost.
When tapping the yellow line that gives boosts, one of four words will appear on the top of your screen depending on how the timing was when pressing the line. The four words are: Perfect, Great, Good, and Okay.
Rewards
---
New New - Old Old
---
After completing a race, a treasure chest appears. Players must tap on the chest to receive the randomly selected reward.
The reward can consist of Gems, Experience, DragonCash, or Treats, or a combination of these.
As of June 27, 2013, the reward process was redesigned to introduce a "Treasure Chest" upon successful completion of a race.
The message that appears on the Dragon Track results screen changed from "Spin the Wheel" to "Claim your prize".
Up to November 16, 2013, magic could also be earned upon successful completion of a race.
Dragon Behaviors
Notes
The Dragon Track was introduced on July 25, 2012.
The Dragon Track is the first mini-game to be introduced to DragonVale.
The Dragon Track is the first place-able object in the Market that is not a square.
The Fire Element Flag border is yellow instead of red.
The Lightning Element Flag border is blue instead of yellow.
On December 21, 2012, the Dragon Track was decorated with holiday decorations for a limited time.

On February 1, 2013, the holiday decorations on the Dragon Track were removed.

Since Update 2.0 came out on October 9, 2013, Backflip Studios has not released a race track race with a light or dark element.
---