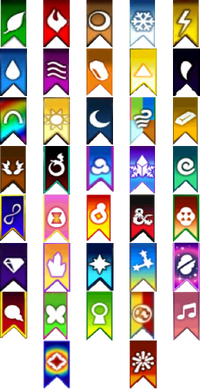 Description
Elements are a key part of DragonVale. They are used in breeding, shrines, boosts, and habitats. There are 25 elements in total: ten primary elements, fourteen epic elements, and two special elements.
Elements
Breeding
Main article: Breeding
Elements determine which egg will result. By breeding dragons with different elements, the result will be a hybrid dragon or an epic dragon.
Habitats
Main article: Habitats
Dragons can only live in habitats that share the same elements as them. For example, a Plant Dragon can only live in a Plant Habitat, whereas a Tree Dragon can live in either a Plant Habitat or an Earth Habitat.
Shrines and Boosts
Each primary element has one shrine and boost. Epic elements do not have either.
Notes
All existing element sets, in which an element has a combination with every other primary element, have been completed. The following elemental sets were completed by the following dragons:
A second element set, in which an element has a combination with every other basic element was introduced with the addition of the Pepper Dragon.
---
Ad blocker interference detected!
Wikia is a free-to-use site that makes money from advertising. We have a modified experience for viewers using ad blockers

Wikia is not accessible if you've made further modifications. Remove the custom ad blocker rule(s) and the page will load as expected.