Standard - Holiday 2011 - Holiday 2012
---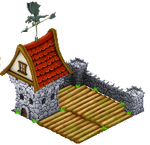 "

With even more living space and a few nicer furnishings, we have weaseled the wizards into working with some of the wiliest weeds in the world. Your dragons will dive in and devour these new delicacies.

"



 

— Game Description 
| | |
| --- | --- |
| Experience | 375,000 |
| Cost | 750,000 |
| Sells For | 375,000 |
| Available | Level 16 |
| Size | 3x3 |
| Upgradeable To | None |
Treats
| Treat | Experience | Food per hour | Cost per food | Cost per hour | Cost per XP | XP per hour | Max Food/Day | Max Cost/Day | Requirement |
| --- | --- | --- | --- | --- | --- | --- | --- | --- | --- |
| | 25 | 600.00 | 10.00 | 6,000 | 2 | 3,000 | 14,400 | 144,000 | Treat Farm or above |
| | 250 | 240.00 | 12.50 | 3,000 | 1 | 3,000 | 5,760 | 72,000 | Treat Farm or above |
| | 1,500 | 150.00 | 13.33 | 2,000 | 0.66 | 3,000 | 3,600 | 48,000 | Treat Farm or above |
| | 7,500 | 150.00 | 16.66 | 2,500 | 0.66 | 3,750 | 3,600 | 60,000 | Large Farm |
| | 25,000 | 133.33 | 18.75 | 2,500 | 0.60 | 4,166.6 | 3,200 | 60,000 | Large Farm |
| | 125,000 | 125.00 | 25.00 | 3,125 | 0.60 | 5,208.3 | 3,000 | 75,000 | Large Farm |
| | 250,000 | 600,000 | 50.00 | 30,000,000 | 2 | 15,000,000 | 14,400,000 | 720,000,000 | Huge Farm |
| | 500,000 | 120,000 | 50.00 | 6,000,000 | 2 | 3,000,000 | 2,880,000 | 144,000,000 | Huge Farm |
| | 2,500,000 | 100,000 | 50.00 | 5,000,000 | 2 | 2,500,000 | 2,400,000 | 120,000,000 | Huge Farm |
Other Treat Farms: Treat Farm and Large Treat Farm.
Notes
The Huge Treat Farm was released on December 2, 2011.
As it costs the same amount of money to upgrade a Large Treat Farm as it does to buy the Huge Treat Farm, you can generate by selling your Large Treat Farm before buying the Huge Treat Farm. However, to reach the "Hungry Hungry Dragons" goal, you must upgrade rather than purchase.
On December 21, 2012, the Huge Treat Farm was decorated with holiday decorations for a limited time.

On February 1, 2013, the holiday decorations on the Huge Treat Farm were removed.

On October 9, 2013, the order that the treats are displayed was reversed; they are now displayed from highest cost to lowest cost.
Sarjin Pepper is a phonetic pun on the famous Beatles album "Sgt. Pepper's Lonely Hearts Club Band".
---