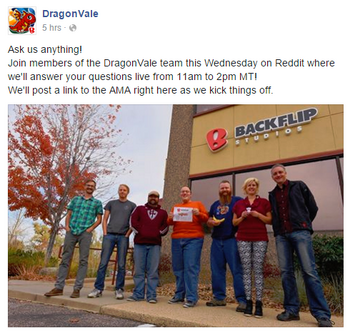 On November 4, 2015, Backflip Studios participated in an "Ask Me Anything" or "AMA" on Reddit.
Between the hours of 6:00:00 UTC and 9:00:00 UTC fans, players, and discussion participants were able to ask questions and have a chance for them to be answered by a few official employees of Backflip Studios.
The responses from Backflip Studios were assigned a blue highlighted poster identification tag.
Answering Team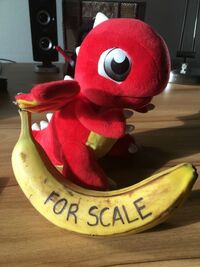 The members of the Backflip Studios team who participated in the event were:
Bryan Mashinter (BM) - Game Director of DragonVale.
Justin Seabourn (JS) - Quality Assurance Lead.
Kevin Chulski (KC) - Lead Game Designer. Designer of Dragons.
Bobby Garza (BG) - Producer.
Eric Harms (EH) - Engineer.
Jeff Bland (JB) - Original DragonVale team member and principal developer of the engine it runs on.
Ashley Stoddard (AS) - Art Lead.
Dan Proudfoot (DP) - Community Manager.


During the question and answers a team member posted a picture of a Fire Dragon plushie.
Reddit Link
This is the link to the posts made on the Reddit Web page for anyone who does not want to view them in the gallery below:
Post Gallery
Below are the approximately 254 comments which were posted during the event:

Notes
On November 5, 2015, Backflip Studios participated in a Reddit AMA where some of the team members answered questions from fans, players, and discussion participants.
---
Ad blocker interference detected!
Wikia is a free-to-use site that makes money from advertising. We have a modified experience for viewers using ad blockers

Wikia is not accessible if you've made further modifications. Remove the custom ad blocker rule(s) and the page will load as expected.