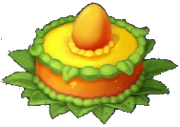 On April 26, 2016, YouTuber and "Kitchen Magician" Rosanna Pansino uploaded a video to her YouTube Channel.
The video was for an episode of "Nerdy Nummies" and was sponsored by DragonVale.
In the video she made a DragonVale Dragon Fruit Cake which appeared in DragonVale the same day her video was uploaded as a limited content treat.
Players were able to select Ro's Dragon Fruit Cake from any of the Treat Farms and grow

50 for
400 in a one minute time-span.
Upon completion of growing the first round of Ro's Dragon Fruit Cake in DragonVale player's completed the following goal and received one gem:
Goal Title: "The cake is not a lie!"
Goal Description: "You put it all together and made this tasty cake!"

As part of the promotion for the limited Ro's Dragon Fruit Cake, Backflip Studios gave each player who logged in during the promotional time a certain number, based on the park's level. The treats were placed in their Social Menu with the title "Ro & Backflip Studios" listed as the senders.
In the video Rosanna Pansino mentioned that she has been playing DragonVale for almost three years and she left a link for her viewers to play DragonVale for free.
In the video she mentioned how she was inspired by the Dragon Fruit treat and provided a brief overview of what DragonVale is for any viewers unfamiliar with the game.
Below is the video which Rosanna Pansino her YouTube Channel:
Gallery
Notes
The Ro's Dragon Fruit Cake was added to the Treat Farms on April 26, 2016
The Ro's Dragon Fruit Cake was removed from the Treat Farms on June 17, 2016.
"Ro" is short for "Rosanna"
The goal earned upon baking the cake is called "The cake is not a lie". This is likely a reference to the internet meme "The cake is a lie!" which is also a reference to the video game Portal.
---
Ad blocker interference detected!
Wikia is a free-to-use site that makes money from advertising. We have a modified experience for viewers using ad blockers

Wikia is not accessible if you've made further modifications. Remove the custom ad blocker rule(s) and the page will load as expected.