​Blue's world
Hey, welcome to my world.
Edit
my name is bluemadness, the living jokebox. check the wikia often, so if you have any questions, just leave a post on my message wall
Edit
A little bit about me
Edit
First of all, i have a little RPGing tool called my whopping hammer, i imagine it as an insanely gigantic hammer made out of wood and painted dark blue.
Edit
I also have a tendency to say ciao! and since people have asked me what it is: it is an italian verbal salutation, meaning hi, hello, goodbye, or bye, i usually use it for saying goodbye. It is pronounced chow, except go lightly on the W when saying it, ciao!
Edit
My status (not always accurate!!)
Edit
STATUS: When my status is green, i will reply to message wall quickly and may be on chatEdit
i have 4 dogs and 2 geckos.
Edit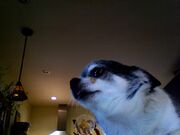 Cheeto
My 8 year old short haired chihuahua, cheeto is not getting any bigger! (i didn't name him, i promised my MUCH younger cousins that they could name them.)
Edit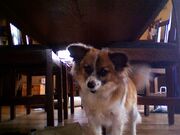 Little freddie
The most athletic, energetic, and cuddly dog. little freddie is often the victim for silly nicknames and puppy talk, he is a 2 year old pappillon (french doggie!!!) and has some aggression issues, probably hard to believe though. --- look at that face!
Edit
Alice
My oldest doggie, being a 13 year old long haired chihuahua isn't easy! she is considered the leader of my "doggie pack" and is quite lazy, but if you manage to get her out of her bed -- she can run fairly fast!
Edit
Sheppy
Yah i know what you are thinking, why do i have 3 little dogs and one GIGANTIC DOG!!! well its because when my dad's kind and loving german shepherd died, he just had to get another one, thise is how we ended up with an aubnoctious, drooly, fool.
Edit
why is she named sheppy? we couldn't think of a name in time, so we started calling her sheppy. (she is 5 years old and may have a brain tumor)
Edit
My avatar
Edit
People may wonder what my avatar is, well its a demented clown called dimentio from super paper mario
Edit
Milestones!
Edit
(Green is completed, red is not completed) (blue is custom)
Edit
---