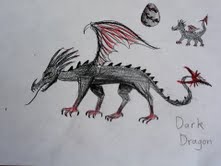 I want everyone to know that if you have any problems in life feel free to rant about it on my blog and I will tell you what I honestly think of you and your stupid problems.
I love Origami and dragons and cheese and cake and apple pie and peach pie and soup and bubblegum and a shoe and realty and a million dollars and any amount of money more than a million dollars and really any amount of money at all and kitchens and origami and dragons and dragonvale and profile pictures and wikis and my brother and life and death and the mud dragon and the iceberg dragon and not the emerald dragon and cakepie and cheesepie and happiness and love and the quicksilver dragon and eating all the edible things on this list and people and school and summer and stories and the morals of them which is admittedly usually look both ways before you cross the street but anyway and ere and level 15 dragons and origami and dragons and faeries and fairies and DEATH to you and your stupid problems and 500 sheets of best quality copy paper and aliens and a large unsavory octopus and my brother again and the kitchen floor and casting my eyes around the rook for inspiration for things I like and ooh long nonsensical sentences and wow same size powerful new formula on a bottle of cleaning spray and tomatoes and a refrigertator and not playing sports and 11:21 am and pajamas and finally most of all, origami and dragons.
The moral of this story is to look both ways before you cross the street.
---