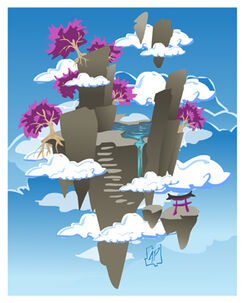 Wood-chi used to live in the ancient forests of old, but now he makes excursions into the world of Dragonvale aswell.
He's been inspired by Liberkhaos' Dear Backflip Studio! blog as well as other wiki users' ideas and has created some concept art of decorations, habitats and the odd dragon that he'd like to see in the game. You can find these on Wood-chi's Dragonvale Fan Art blog.
Many thanks to the DVWiki and Admins for hosting and Liberkhaos for his platform and Backflip for listening. Go Sakura!!
ART REQUESTS:
Unfortunately, due to my busy work schedule, i cannot commit to any art requests.
- Thanks for your positive comments!
CURRENTLY . . on Dragonvale
Lovin' the new update. Somethng to do at last!
OBSTACLES! In the MARKET! At last! So far I have completely redesigned thre islands and I'm working on the fourth. Now that i can reposition the original rocks and trees things are looking better than ever :)
The new Giant habitats are mostly awesome (I wonder why they broke the mold and called them Giant instead of Huge?) though they pose a few island aesthetic challenges - plant mostly.
Plus the new look Earth Large habitat is long overdue. They look really cool now.

LookyLooky - Septastic badgificatory displayaging:
TUNE IN for the next installment!
What have you guys done with your parks since this last update? I shall have to swing by gem friends to see ...