HUGE BABY DRAGONS!!! (updated) Again. see below" Update 2.0
So, I know half of you won't believe it when I say it, because of that silly phantom dragon thing, but my baby dragons are HUGE!!! You can come over and I will show you in person. Seriously.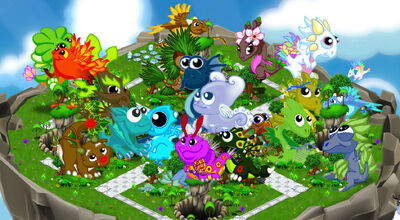 The game gave me warned me/ gave me some message, it threw me off though, I pressed the accept button, not even thinking about what I was doing and barely got a glimpe to what the message said. It was your usual wizard congratulations leveling-up, pop-up window and said something about my baby dragons being huge, like a spell, or a curse. Butmy finger was working faster than my brain i guess, and I dismissed it thinking it was the usual level-up window. The next thing I knew, I have huge babies!!! I gathered babies out of hibernation and bred as many new babies as I could for each screenshot so people can see. Perhaps maybe you would want to use one as a desktop, so I saved them as high-res as I could and cropped off the borders.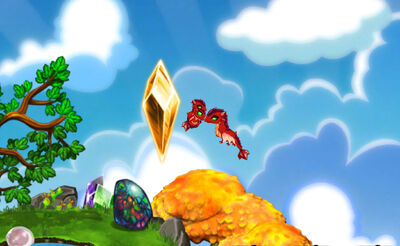 I do not know if this is temporary, I do not know how I unlocked this acheivement. I am on level 35.
Maybe its because I managed to acquire three ruby's on their first day, if that has anything to do with it. Now that I think of it, it was right after I bred my third.
Regardless, I am sure, with the number of people playing this, someone else, must have experienced this too.
Personally, I think its real cool. They do get in the way a bit when seeing what habitats need money collected. But I do think I saw the word "temporary" in the wizard's statement that I clicked off of way too quickly. So I think I will just enjoy it while I can.
Ok... There's more to the story...
My brother was alone with my ipad for about half a minute before this happened. Admittedly, he was the one that clicked the wizard window and explained to me what he thought it said. I didn't see it. But I believed him wholeheartedly, because, after all, why would he lie about that?? So, I wrote the previous blog as if I was the one that clicked the wizard window… I know, I know, that makes me a liar and everything because I wrote that I clicked it, but when I wrote that there really was no reason not to believe him and it seemed like an honest mistake. I can assure you that I was pretty upset that he clicked on something without telling me, still am.
But I have the suspicion that my brother may not have been perfectly honest with me. I think he did hack it. I've perused all over the internet and cannot find ANYBODY who this happened to. Yet, the only hacks I stumbled across were for jailbroken devices, and my device is not jailbroken, nor would I want to jailbreak.
Then I think to myself, Is it possible my brother could've hacked the game? Could he have done it that fast?!?! I thought Apple was pretty secure with its software? The thing is, he doesn't even play Dragonvale, but he is a computer programmer. But, literally, it was like thirty seconds he was alone with it. I've perused all over the internets and cannot find ANYBODY who this happened to. Does ANYBODY know of ANYBODY who this has happened to? There's got to be somebody…
I asked my brother again about it, and he insists that there was a wizard-window that popped up explaining the big babies...
Regardless, I started moving these big baby dragons into my hibernation cave (or leveling them up so they "shrink" back to normal size.) They really are starting to get in my way. But I'm going to leave a couple out for "show and tell." I'll friend you if you want, but unfortunately, I visited my own park from another friend's device today, and they do not appear as huge babies when I visit myself (very disappointing.) I wish I could show all of you skeptics in person that these huge babies really are on my device.
(What if I take a picture from an actual camera of me holding the device with the huge dragons? That would definitely be next to impossible to Photoshop, I'll upload that soon. edit: just uploaded:)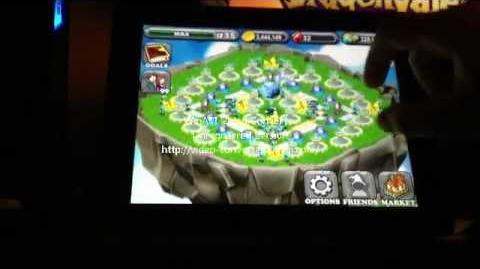 Yes, I have photoshop.
To the people who know that I Photoshop..which would now be anyone who reads this. I admit, I have dabbled in shopping quite a bit, however, I don't have the time to shop something this extraordinary, that's a ton of cutting and pasting I would've had to do! Especially to seemlessly edit in an episdoe of Bob's Burgers in the background. Although I did take a lot of time to photoshop this Phantom Dragon. ;)
All in all, all these people telling me that it's fake are almost making me think that it is fake...
…but then I look at all my baby dragons…
UPDATE 2.0
'Obviously this is a hack.' It is not a normal occurance in the game. My game now is "normal" again thanks to backflip's updates.
I finally got my brother to admit it. Lesson learned. Dont leave your older, smarter, programmer brother alone with your electronics.
I researched my huge baby situation a bit more, and found that the only way this could happen was with a hack. Considering everyone has the same gamerules file, and it updates every time there is a change in the game, the only way mine would be different is if it was hacked. Sure enough my suspicions were correct, I approached my brother last weekend and he finally broke down and told me he messed with my game. He really let me believe that I had legitimately acquired these huge babies, but now i am very let down and a bit depressed. I was so excited about my huge dragon babies...
Long story short, I apologize to anybody who has been trying to get to level 35 in the hopes of getting huge babies too. I hope backflip releases something that makes dragons bigger legitimately, like a fountain of youth that works as an enlarger. Or something cooler and differemt, maybe a dragon color changer, or breath-changer.
Anyway, thanks for reading and visiting and taking interest in my blog. I can't believe the number of comments that have accumulated in the last couple months! I'll be sure to upload some more photoshopped dragon concepts soon.