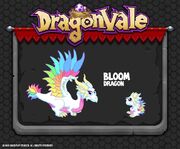 Hi! Everyone knows about the new and beautiful bloom dragon. So far, only three combos have gotten the new dragon. These three combos are:
Flower and Storm
Plant and storm
Lichen and Lightning
With this combo, the other dragons that you can get are:
Poison
Cactus
Flower
Firefly
Scorch
Storm
Lichen
Bloom
Sun
Moon
Rainbow
You can only get the Rainbow Dragon with Flower/Storm Combo. The rest you can only get Moon and Sun. If you got all the Bloom Dragons you need, and you need a sun, moon or rainbow, then I advise that you should try for them now, because they have made it easier to get 48 h dragons. This will only last until the Bloom Dragon leaves. It's also a good idea to get plenty of Bloom Dragons, as they help alot with the shrines.
Good luck with your breeding and I hope I helped!