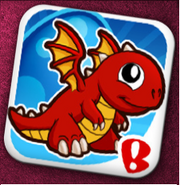 This Guide will no longer be updated due to the fact that the blog creator, User:Highscoredaniel, won't be active.
Introduction to this blog
Hello, I'm Highscoredaniel. I have been playing DragonVale since November 2nd, 2011 and fell in love with this game. I decided to gather some useful tips to help others play and put it in this blog. Please leave your comments or tips below. Thank you to all that have contributed. I look forward to seeing you around the wiki!
Tips for Earning DragonCash
Breeding a Cactus Dragon is a quick and easy way to earn DragonCash since it can earn you 100,000 an hour, yet this is NOT the best way to earn the most DragonCash in DragonVale.(Note:Breeding and hatching a Single Cactus dragon takes 1hour total)
Breeding Iron Dragon or the Magnetic Dragon gets you 1,150,000 DragonCash in total of 8 hours. This is so far the most efficient way to earn the most DragonCash so far in DragonVale. But wait, if you have not had a chance to finish your shrines yet, feeding/growing these dragons to level 10/15 may help you finish your shrines!
Many people breed an Air Dragon for DragonCash. This is very commonly well known because it only takes four hours to breed and hatch. It sells for 500K so this is a quick and easy way to earn some extra DragonCash.Note: Fire Dragon bred with Water Dragon makes an Air Dragon.
Multiply Rainbow Dragon and place them in your park. It earns 24K DragonCash an hour.
Have a "Saving Week" in your park. Just for a week, do not spend any cash at all. JUST FOR A WEEK. You will be amazed at the results by the end of the week.
Make more and more friends. Every 24hours, you can visit/earn Dragoncash from just clicking the "Party Hat". This is perhaps the easiest way to earn DragonCash.
We all know Elemental Boosts positively/negatively affect your dragons. It is the best to separate dragon opposites on different islands and place boosts on the island where that type of dragon is located. This way, no dragon gets a (-) and you will only earn more dragonCash without losing any.
Win the a gold medal! It should give you enough money to keep up your park.
Tips for Earning Gems
Most efficient way to earn gems is to give gems to your GameCenter friends and make a list of people who have sent you gems. Then, pay them back in the order they sent you gems. This way, your friends will be assured that you always pay you gems back and possibly send gems to you daily.
Save them up!!! Like what it says on the Tips for Earning DragonCash, have a "Saving Week". An average player can earn about thirty gems in a week. Keep saving those gems up until you have a satisfied amount of gems that you want.
Buying more expensive gem things first then buying cheaper gem things seems to make things easier.
Buy the Dragonsai Gem Tree. Sending more gems to your Friends is sure to bring more gems back to you! Yet saving up 100 gems to buy this tree is quite a challge, I used the saving week method to do this...hope this helps!
Giving gems to lower leveled people bring more gems because they are new and haven't got enough friends to give gems to. Perhapes they will eventually send gems back to you daily?!
-Note from the DragonVale Wiki: Please post friend request on the Friends page.
Tips for Earning EXP
More Food, More EXPs. Grow lots of Treats. Harvesting Treats gives you alot of EXPs. It also gives you extra treats for your dragons! Who doesn't love treats?!
Make it beautiful, Make it "higher". Buying decoration gives you EXPs. Most decoration gives you EXPs EXCEPT any of the paths. Yet in higher levels, this is probably not enough for you.
Mass produce Magnetic Dragons this will not only earn you 1.5 milion dragoncash yet earn you 1.5 milion EXPs at a time! Who wouldn't love that?!
Build it all the way! Buildings are probably the most EXP giving thing in the market after dragons. The boosts seem to give the most yet Huge Treat Farm seems to to be the easiest and the fastest.
More volcanoes means EXPs erupting. If you are in levels between level 20-25, Volcano is a great way to earn EXPs... Though it is quite costy...
Clear the way. Clearing Trees,Rocks,and bushes gives you lots of EXPs. The more expensive the object is, the more EXPs you will earn.
Hatch the Metal. Hatching a Metal/Hybrid dragon gives you alot of EXPs. Just breed a Metal/Hybrid then hatch them. This will give you at least 1,000,000 EXP or more. It is also good for DragonCash since all metal dragons sell from up to 500,000 .
Win the Colosseum. This is perhaps the best way to earn gems, EXP, and DragonCash.
Tips for an Organized Park
Keep it fresh at the first sight. Once you buy and summon a new island, plan it out. Think about what you would want to make this island look like. Start off by clearing some land in the middle and start from there. If you can afford enough DragonCash to clear all the land, great, then do so.
Your Paths are your first sketch. At first, lay out the paths on your new island. Then, put your habitats(if necessary) first. After you have put your habitats, fill up your land. Put lots of decorations in a pattern. That should make your park NEAT.
New things are to be planned. When you are buying new things, plan it out first. Think about where and how you want it. Do not just put it somewhere randomly. It can be quite a challenge to try to make it re-organized once you do that.
Friends help. Visit your friends, get some of their ideas. You can combine your friends' ideas and design your park. This will make your park nice and fun.
Tips to Breeding
You can't get it now, but you can't get it never.-Benjamin Franklin. It may seem very frustrating if you cannot get a dragon you want instantly. Just have patience. It will come eventually.
What you want is given to you when you really try. Keep trying. Repeat a combo that you think works the best. Keep repeating the combo until what you get what you want. Nothing in this world gets you what you want until you try hard.
Have hope. Just because you cannot get the dragon you want, do not give up. Some of you say "I cannot get it, I don't need it, I'm happy". Well are you? Then why did you even try to get it? Just keep on going without losing hope. Without hope, everything is impossible.
When you are breeding for Rare Dragons, it is the best to breed with a pair that result failure dragon with short incubation time. This saves time and you will be able to try another pair or the same pair much faster. For example, people avoid using crystal/bluefire combo because that can result a crystal dragon with a 24hour incupation time.
Tips for Finishing Shrines
If you are simply just trying to get your shrines to silver, the best way to finish them is to save/feed your "Accidental Dragons" then sell them. That way, you can work on shrines and try out for a rare at the same time.
If you are trying for the mighty gold shrine or even thinking about doing so, start early. Leveling your dragons to level 15 takes a lot of treats and even more when you are trying to level them to level 20. Start growing treats now or else you will suffer from the lack of food you have.
Some say growing cheaper treats constantly is more helpful because you will not lose a ton of dragonCash once.
-Note: Visit Treat Farms to learn more about how much treats are required to level your dragons up.
Thanks for reading my blog!
More
---