Science/Magic Introductory
These are the dragons that I hope will go on DragonVale. I have included SynergyShade3624's drawings, Anvil555's idea about Light/Dark Elements, Wood-Chi and BlazingLightFire's huge habitat idea, ShadowBlade82's idea about Ancient & Mythical Elements and Liberkhaos' supertype idea (normal element+same normal element). Note: ~: getting voted and |:getting voted at Anvil555's blog and ^ : getting voted at ShadowBlade3624's blog
Hybrid Dragons
Science

(Main Element) Available: Level 20 Cost: 5,000,000 Opposite:Magic

Plant: Parasite, Orchid

Earth: Mineral, Geo

Fire: Combustion, Supernova

Cold: Cryonic, Lab

Lightning: Fusion, Bulb/Voltage~

Water: Chemical, Saline

Air: Vapour, Aether

Metal: Gyro, Corrosion

Light: Glow, Aurora

Dark: Void, Nuclear/Hyper

Ancient: Relic, Amber

Mythical:


















Magic
(Main Element) Available: Level 20 Cost: 5,000,000 Opposite: Science
Plant: Lotus, Charm
Earth: Leyleine, Megalith
Fire: Energy, Ignis
Cold: Rime, Blizzard
Lightning: Tempest, Thundura
Water: Mirage, Bermuda
Air: Illusion, Cyclone
Metal: Mirror, Wand
Light: Life, Aura
Dark: Spirit, Nocturne
Ancient: Amulet, Rune
Mythical: Genie, Secret
Three Element Dragons
- Mechanical: Metal+Lightning+Science
- Acid: Fire+Plant+Science
- Formula: Water+Fire+Science
- Dynamite: Fire+Lightning+Science
- Laser: Light+Lightning+Science
- Atomic: Fire+Dark+Science
- Mercury: Water+Metal+Science
- Glass: Earth+Light+Science
- Herb: Water+Plant+Science
- Fossil: Fire+Earth+Science
- Ivy: Plant+Dark+Science
- Mercury: Water+Metal+Science
- Origin: Science+Light+Ancient
- Solar: Science+Light+Fire
- Lunar: Science+Dark+Cold
- Luminous: Lightning+Light+Magic
- Melody: Plant+Air+Magic
- Luck: Plant+Earth+Magic
- Aloe: Water+Light+Magic
- Chaos: Cold+Lightning+Magic
- Waterlily: Water+Plant+Magic
- Dream: Light+Air+Magic
- Nightmare: Dark+Air+Magic
- Maelstrom: Dark+Water+Magic
- Mystic: Cold+Light+Magic
- Twilight: Cold+Dark+Magic
- Moonstone: Cold+Earth+Magic
- Soulstone: Light+Earth+Magic
- Suntstone: Fire+Earth+Magic
- Excalibur: Metal+Earth+Magic
- Fairy: Magic+Light+Plant+Air
Limited
Oposites/Supertypes
Science+Magic should make:
- Astrology & Alchemy
Supertype Science: Technology
Supertype Magic: Sorcery
SynergyShade3624's Dragons
Here are more dragon ideas from SynergyShade3624:
Magic Dragon:
The Magic dragon is naturally born with tiny hands, as they rely on their emmense amount of magical power to move things around. Every Magic hybrid has its own unique pattern. Strangly, the magic that they emmit seems to be the same as the magic that comes from our wizard's magic wands...perhaps a built-in magic wand?
Acid Dragon (Magic+Plant):
The Acid Dragon loves to splash around in lakes and streams, but the acid that their fins let off are highly corrosive. If you see an Acid dragon in your general vicinity, it is recommended that you try to keep it out of your water supply...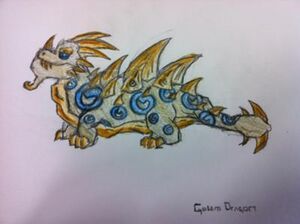 Golem Dragon (Magic+Earth):
Built by a hermit in the high mountains, the first Golem dragon was meant to be a hard working domestic companion to lonely wizards. In reality, Golem dragons are actually more like quite large puppies... just don't let them fight you for a bone.
Rune Dragon (Magic+Cold):
The runes etched on this dragon's hide hold almost an immeasurable amount of magic, but the dragons themselves do not really know how to use it. So if you have a Rune dragon in your park, don't be surprised if a roll of stinky cheese lands on your head, or if your pet cat starts flying!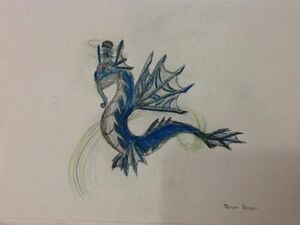 Potion Dragon (Magic+Water):
The Potion Dragon is always surrounded by a ribbon of health...literally. It origInates at the potion bottle that floats above its head and circles around the dragon, giving off a greenish-blue light. It is known to chase it around in circles, much like how a dog chases its tail, for hours on end.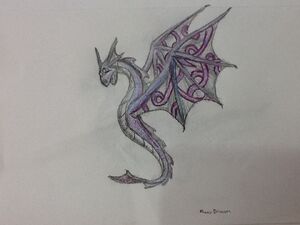 Fairy Dragon (Magic+Air):
Fairy dragons are almost impossible to look at directly, as their bodies are coated with iridescent scales. Even our best picture-taking magic has failed to capture a still of this shiny dragon. Our philosopher-wizards have declared that the shining light associated with fairies appearing is just the sun reflecting on the dragon's scales, but where's the fun in that?
Voltage Dragon (Magic+Lightning):
Voltage dragos love to hide inside the clouds that drift along behind cloud dragons, but call out when the clouds start to rain. They were also said to hide inside hollow rubber tubes in a bygone age, and ran around inide mechanic stuff to make them run... but that can't possibly be true, can it?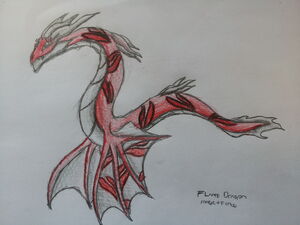 Flare Dragon (Magic+Fire):
Flare dragon is said to have been a very important asset when war broke out between nations in a bygone age. Their intense heat distracted invading "missiles", or projectiles with deadminds, thus redirecting them from their targets. Fortunately, Flare Dragons are among the fastest flyers in the world, and were not harmed in the line of duty.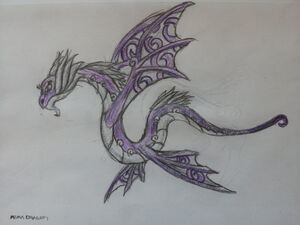 Aura Dragon (Magic Supertype):
The Rarest of all Magic dragons, the Aura dragon is a master of flight and never lands. It is said that it is even born in the air due to the fact that their eggs float..
Please note: Synergy's ideas are different then mine. All of this work is Synergy's.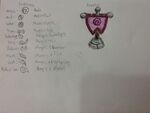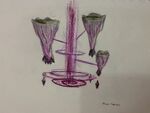 Dragons Without Elements
(Please post your ideas)
- Miracle
Habitats
Small Habitat: Capacity: 1 dragons Income: 75,000 Cost: 1,000,000
Large Habitat: Capacity: 2 dragons Income: 200,000 Cost: 5,000,000
Huge Habitat: Capacity: 5 dragons Income: 500,000 Cost: 25,000,000
Information: Science:
S: Black, cement floor with a cauldron, steam
L: Small habitat+beakers on the floor spilling acid
H: Large habitat+boiler, broken glass
Decorations: Boiler, cauldron
Magic:
S: Grass and flowers, mist and clouds floating, purple, glowing crystals, sparkles
L: Small habitat+tree, bushes, rocks, steps on the ground
H: Large habitat+taller rocks, flying cascades (Magic Fountain)
Decorations: Magic Fountain, crystals
Currently Voting
Voting is closed because I will not be editing this blog until I have time.
Voted
1. What should Magic+Science make? Astrology/Alchemy: 23 Elixir/Philosopher: 5 (Winner:Astrology/Alchemy)
2. What should be the supertype for Science? Technology:20 Hypothesis:7 (Winner:Technology)
3. What should be the supertype for Magic? Psychic: 4 Hypnosis: 1 Telekinesis: 2 Sorcery: 24 (Winner: Sorcery)
4. Would you like an Unamed/New Species dragon? Yes: 4 No: 7 (Winner:No)
5. What should the Light+Magic hybrid be called? Cure: 7 Heal: 4 Panacea: 2 (Winner:Cure)
6. What should the Plant+Magic hybrid be called? Iris: 2 Lotus: 8 Waterlily: 3 (Winner:Lotus)
7. Do you want Anvil555 to draw the Science and Magic Dragons? Yes: 9 No: 3 (Winner:Yes)
8. What should the second Lightning+Magic hybrid be called? Thundura: 9 Flash: 2 (Winner:Thundura)
9. What should the second Fire+Science hybrid be called? Torch: 6 Supernova: 7 (Winner:Supernova)
10. What should the second Metal+Magic hybrid be called? Wand: 10 Excalibur: 5 (Winner:Wand)
11. What should be the second Light+Science hybrid? Glow: 2 Medicine: 1 (Winner:Glow)
12. What should be the second Magic+Dark hybrid? Nocturne: 5 Omen: 0 (Winner:Nocturne)
13. What should the second Magis+Light hybrid? Cure: 1 Life: 9 (Winner:Life)
14. What should be the second Dark+Science hybrid? Nuclear: 2 Radioactive: 0 Biohazard: 0 (Winner:Nuclear)
15. Do you want to add Ancient and Mythical elements to this list? Yes: 2 No: 0 (Winner:Yes)
16. What should be the elements to make a Lunar Dragon? Science+Dark+Cold: 4 Science+Dark: 2 (Winner:Science+Dark+Cold)
17. Do you want Rune as the second Ancient+Science hybrid instead of Amber? Yes: 7 No: 0 (Winner:Yes)
18. What elements should be used for the Coelecanth Dragon? Water+Ancient+Science: 3 Water+Ancient: 4 (Winner:Water+Ancient)
Information/Special Thanks
The Science/Magic element dragons have a high earning rates (Normal:9-20, Rares:20-35). That's why they're available at level 20 and why the habitats cost so much, hold a lot of income and doesn't have a high capacity at the begining. Please comment and tell me your ideas! I also request that someone draw/make the habitats and Magic/Science dragons (Not all of them, just mainly the main element and maybe opposite/supertype). I also want to thank some users and some Anons for giving me ideas in Dear Backflip Studios! and here. Also, I want to thank Liberkhaos for giving me permission to post links on his blog and showing me how to add voting & the show/hide buttons. I want to thank ShadowBlade3624 for letting me use Ancient/Mythical elements and SynergyShade3624 for drawing some pictures of some dragons. Finally, I want to thank Anvil555 for using my idea for his blog and for drawing the dragons.
Ad blocker interference detected!
Wikia is a free-to-use site that makes money from advertising. We have a modified experience for viewers using ad blockers

Wikia is not accessible if you've made further modifications. Remove the custom ad blocker rule(s) and the page will load as expected.