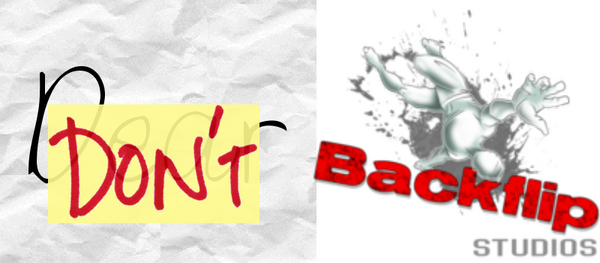 If you've been on this wiki for a while now i'm sure that you have come across Liberkhaos's fantastic suggestion blog Dear Backflip Studio! where sensible ideas are added into an ongoing list of suggestions for things that Backflip could add in future updates. This blog is not for those ideas, it's for the OTHER IDEAS, the ones that you know deep down are completely impossible (or at least highly improbable) for Backflip to ever make. However those ideas can also be pretty cool so I thought i'd make a different type of list so people can showcase their favorite impossible ideas. Sir Machius Talk Chat Contribs
RULES
While this blog is the home of crazy ideas the point is to make them original and interesting, so no blatantly obvious things that are impossible but everyone wants like Unlimited Free Gems or Dragon Trading.
Nothing that is actually/hopefully Possible, if it is then Liberkhaos's Dear BFS blog is the place to go.
Also the idea is to use things where you've thought "It's impossible but wouldn't it be cool if there was <insert idea here> in DragonVale" it's not about simply bad or joke ideas.
FORMAT
For ease of making a suggestion here's a format, including an example idea of my own (the Kangaroo Dragon)
Suggested Idea Format

Idea Type: Dragon
(could also be Building, Game Mechanic etc.)
Idea Explanation: A limited Australian themed Kangaroo Dragon
(what is your idea etc.)
Reason it's unviable: A Kangaroo is too specific to Australia and Australia has too small a population to get it's own dragon
(why doesn't your idea fit in the real game- too good, too country specific etc.)
Optional: An image/picture to go along with your idea.
THE LIST
DRAGONS
Mythological Creatures [Sphinx, Phoenix, Titan, Behemoth, Leviathan, Kraken, Naga ect...] (why not? they aren't Dragons, dah :P ) suggested by Liberkhaos
Heaven & Hell Dragons [alternatively Angel and Demon dragon] (too much of a religious overtone) suggested by SilverMarsh
Trap Making/Treat Cooking Long Pan Dragon [Can cook treats with it making a trap, if you feed the cooked treats to a Panlong it deletes the Panlong and gives you 1million Elements:Metal,Lightning,Plant,Cold] (impossibly complex, and exploding a Dragon and eating it O.o) suggested by Destroyerkhaos
Cursed Dragon [gives negative boosts] (negative concept unlikely to be added) suggested by Sir Ranas
Watermelon Dragon (it's a piece of fruit, a dragon and a wonderful misreading whatever the case definitely a highly unlikely addition to the game) suggested by Br318
Assassin Dragon [can assassinate visitors and eat them instead of treats, will go on a murderous rampage and die if you don't give it something to assassinate regularly] suggested by an anon (anon given nickname

XxMageRuxX)

Copyrighted Character Dragons [Toothless from "How to Train your Dragon", Rare Purple "Spyro" Dragon etc.] (they're copyrighted, dah :P) suggested by an anon, "Spyro" suggested by Superhappyyoshis
Charitable Causes Dragons [Cancer, Blood donation etc.] (charitable causes are great but they don't fit well in DragonVale and it's not fair to pick only one or two and ignore all the other worthy causes) suggested by an anon.
Locker/Pencil Dragons [half school item half dragon] (all crazily impossible, I can't even work out how they'd look let alone how Backflip could make them) suggested by Polinarose
Barbie Dragon [half dragon half every young girls favorite doll] (O.o yup impossible, not to mention Barbie is also heavily copyrighted) suggested by Polinarose
The PHANTOM DRAGON [super rare, hidden, 96hr black shadowy Rainbow dragon varient that takes over the entire game and can't be got rid of once hatched] (yup, impossible, makes for a fantastic creepy pasta story though - Something Very Strange - Illustrated original by Elderleaf illustrated version by Cartoondan123) suggested by Pr0Bull3tz
Griffin Dragon (too complex, plus a giffin isn't a dragon :P) suggested by Superhappyyoshis
Hungry Dragon [

0.000000000000000000001% chance to breed with any combo

, eats dragons instead of treats and once it's levelled up to level 10 it starts eating everything (decorations, buildings, islands...) until your park is gobbled up, if it succeeds in eating everything you unlock a hidden achievement and "

new park preloaded with 100 billion DC and 1 billion gems and treats for being the only one beast enough to breed the most rare dragon in DragonVale"

] (way way too complex, but can't you just see it nom nom nom-ing away at your islands =) ) suggested by MesoDragon
Ninja Dragon [the can turn invisible and they kill things around your park using shuriken (ninja stars)] (too complex, violent and weird, but very cool =) ) suggested by Lightning21713
Volcano Dragon [produces Lava and Lava Dragons doesn't damage the park... much] (too impossible but cool anyway) suggested by Superhappyyoshis
Exploding Firework Dragons [breed two max level Firework dragons together and they explode, possibly taking your park with them, don't worry a replacement park can be bought for a small fee :P] (yup impossible, but i'm guessing most people have wished that Firework dragons would blow up at least once) suggested by an anon.
Food Dragon [a dragon made out of food, it doesn't want to be a cannibal so it eats visitors and buildings instead] (wonderfully impossible, but gotta love the om nom nom) suggested by Superhappyyoshis
Real Paper Dragon [if it gets too close to another dragons claws/horns it tears, only the heavens know what'll happen if it gets in the way of dragonbreath ;) damaged it earns less s] (impossible, but it works with the "what the" feeling we all got seeing Paper for the first time) suggested by Superhappyyoshis
Crazy Dragon [a Crazy Dragon, very fast and needs to eat otherwise it will fly away to another park] (dragons running away is highly improbable, but as this blog shows we like the crazy =) ) suggested by Superhappyyoshis
T-Dragon [Part T-Rex part Dragon] (if combining mythological creatures or animals with dragons is improbable then combining an extinct creature is too) suggested by Superhappyyoshis
Loud Dragon [Screams/Roars all the time scaring and making the visitors leave, it also ruins the lovely music] (very cool and improbable for reasons of noise (who woulda thought?) ) suggested by nickname Wizard of the Month
Week Dragon [A Dragon that stays with you for one week then it runs away :P] (yeah wouldn't people just love to hate that) suggested by Superhappyyoshis aka Grifflin
Death (Grim Reaper) Dragon [A Dragon that sends other dragons to Dragon Hell] (problematic theme and religious implications) suggested by Wolfiethezwolf
Doomsday Dragon [A Dragon which on a certain day predicted by madmen blows the park up] (O.o a Dragon Timebomb) suggested by Wolfiethezwolf
Caterpillar Dragon [ goes around the screen until all you see is the caterpillar] (reminds me of the old snake games =) whacky fun but impossilbe) suggested by Polinarose
God and Jesus Dragon [Overlord of all dragons and Son] (too too religious) suggested by Polinarose
Cookie Dragon [Cookie shaped dragon, if the visitors get too close they'll eat it] (lol, a nice reversal on the whole eating the visitors things, still impossibly improbable though) suggested by Polinarose
Sexist Dragon [Combines with the Dragon Genders idea, the dragon eats visitors only of the opposite gender] (violent and sexist, what a winning combination, NOT! Fun idea though) suggested by Polinarose
Shish Kebab Dragon [A dragon with it's own unique BBQ Habitat which can be eaten by visitors] (a bit like the cookie dragon but more filling :P ditto on the impossible scale though) suggested by Polinarose
Pickle Dragon [An Epic Dragon which is a Pickle] (maybe it's habitat could be a Jar) suggested by Pickle786™
Leaf Dragon [Can't be bred, purchaseable for 5, after you have one whenever the Tree Dragon releases leaves it turns into another Leaf Dragon] (crazily complex, breaks the all dragons must be breedable rule, but wouldn't it be cool to have the tree dragon's projectile leaf vomit turn into a dragon =) ) suggested by Superhappyyoshis
King Dragon [Lord of all dragons, while it's around none of the other dragons can be fed or listen to you, if the King Dragon doesn't have a Queen Dragon it gets depressed causing your dragons to earn less] (kills the game, but a King dragon would be pretty cool) suggested by Superhappyyoshis and an anon
Fairy Dragon [

It's so small and transforms other dragons into 199,999,999,999 headed dragons magically. And it freezes visitors. And it never gets any bigger.] (that's a lot of craziness in one dragon, and yes definitely too complex to be possible, can you imagine the lag created by a

199,999,999,999 headed dragon? -shudder-) suggested by The Stealth Hunter
Clone Dragon [Feed it to level 10 using treats, and it clone dragons for you.] (cloning dragons gets around breeding restrictions and would be complex to implement, cool idea though) suggested by Tasblader
A Queen Dragon [the partner to the King Dragon without which he gets depressed, also a tribute to the rock band, Queen. Its roar could be a short clip of Freddie Mercury singing, and it could have dances where it plays guitar, drums, bass guitar, or sings. Also, at random times when the Queen dragon is in your park, the music will change from the normal Dragonvale music to short clips of 'We Will Rock You', 'We Are the Champions', 'Another One Bites the Dust', 'Killer Queen', and 'Don't Stop Me Now'.] (lol gotta love Queen, but it's a copyrighting nightmare) suggested by an anon and Argyos Maestre
Booger Dragon [It sneezes over other dragons and makes them dirty.] (yeurch bodily function dragons, we need a big tissue :P, complex and disgusting) suggested by Tasblader
Part Human Dragons [either half human - half dragon or human head with a dragons body] (O.o weird and incredibly unlikely for backflip to do) suggested by NonsenseFantasy
Lego Dragon (major copyright concerns on this one, plus it would look really out of place) suggested by TasBlader
Troll Dragon [A trollfaced drago, has a 0.00001% chance of coming through a portal. comes and annoys the pants off of dragons, causing there earning rates to drop.] (lol, like the one on my [http://dragonvale.wikia.com/wiki/User_blog:Sir_Machius/Don%27t_feed_the_Troll_Dragons Don't Feed the Troll Dragons] blog, definitely impossible) suggested by Tasblader (who narrowly beat NonsenseFantasy to the suggestion)
Ice Cream Dragon [

A dragon that is made out of ice cream. You feed it cold habitats, and if you feed it anything else it will melt and the park will turn into an ice cream swamp (yum)] (I scream, U scream, We all scream for the Cold Habitat eating Ice Cream Dragon :P lot's of fun and definitely impossible) suggested by

Superhappyyoshis
Mario and Luigi Dragons (a copyright nightmare just waiting to happen) suggested by Superhappyyoshis
Nintendo Dragon [

an awkward dragon where the wizards come and picks up its controllers and starts playing on the dragon] (complex and a copyright nightmare, lots of fun though and there could be related sony, sega a microsoft dragons :P) suggested by

NonsenseFantasy
Hair Dragon [A horribly hairy beast, makes all your visitors become hairy too] (lol, positively hair raising and highly improbable) suggested by Superhappyyoshis
(boring) Dragon [just named Dragon, it has no interesting features whatsoever, not even an element] (lol, dullsville, but truly wonderfully improbable) suggested by NonsenseFantasy
Tongue Dragon [Dragon which goes around licking the visitors with it's giant tongue] (not very hygenic but hugely amusing, and highly improbable) suggested by TasBlader
XBox Dragon [A distant relative of the Nintendo dragon, eyes like logos] (impossible copyright issues and doesn't really fit in DragonVale, but a must for every XBox owner =) ) suggested by WolfiethezWolf
Pumpkin Dragon [A halloween dragon released with the Bone dragon, it magically turns islands into the shape of a pumpkin] (pumpkin shaped dragons turning islands into pumpkins, sounds crazy cool and highly improbable to me) suggested by Superhappyyoshis
Themepark Dragon [Exclusive dragon which you can only get by going to the DragonVale Themepark] (so awesome, so impossible, gotta love it) suggested by an anon
Gravity Dragon [Affects the parks gravity] (can't you just imagine those visitors floating around the park =) too complex though) suggested by Polinarose
Cyber Dragon [Looks like a dragon version of the Dr. Who Cybermen, converts the other dragons in it's habitat to cyber dragons] (lol, gotta love a Dr. Who reference, but yeah copyright and complexity issue with this one) suggested by MrMarmite
Newbie Dragon [a dragon given exclusive to new players just starting DragonVale] (adding something like this at this point would make everyone who missed out on it very unhappy) suggested by an anon
Clarinet dragon [It plays notes from its nose, and makes a very loud squeak every time it sneezes (better plug your ears every time that happens). Other cousins of the clarinet dragon are saxophone dragon, trumpet dragon, trombone dragon, flute dragon, and tuba dragon (what a heavy nose for a tuba dragon).] (lol gotta love musical instrument dragons but yeah the designs for them just wouldn't work with DragonVale's current setting) suggested by NonsenseFantasy
Vampire Dragon [

attacks visitors and dragons. So dangerous that it has to be in a special island where no visitor or other dragons can ever go] (gotta love these violent dragons and this one even needs it's own unique island, definitely impossible, but vampires are cool (well except for the "sparkly" sort)) suggested by an anon

Wiki Star Dragons [Dragons to represent the "wiki stars" SilverMarsh, Chocobalt, Me (lol I didn't say it)] (soo impossible, but who couldn't resist having their own dragon) suggested by ilikepi3.14159
Gangnam Style Dragon [does the Gangnam style dance and causes other visitors etc. to do it too] (lol, gotta love viral crazes but yeah the chances of getting Psy to write of on this or BFS to go for it are extremely low) suggested by NonsenseFantasy
Dragon Story Dragon [The dragon story dragon originates from the game Dragon Story™

and invites all of the Dragon Story™ dragons to dragonvale] (yeah sensing some major copyright issues here, and blatant competitors are the most unlikely people to share things with) suggested by

NonsenseFantasy
BUILDINGS/HABITATS/DECORATIONS/ISLANDS
Triple Breeding Cave (3 dragons breeding at once O.o) suggested by MesoDragon
A 2nd Normal Breeding Cave [for 100 ] (bringing the total breeding cave number up to 3 is highly unlikely to happen as every extra place to breed makes the game much easier) suggested by 1:64
Charmworks [for 100,000 increase the chance of getting rarer hybrids/epic dragons by 1%] (even with a time limit and costing it would be improbable but for coins, impossible. pretty cool though) suggested by Wthannah
Opposites Love Breeding Cave/upgrade [let's opposite dragons breed together] (elements have opposites and opposite dragons are difficult to breed for a reason, the challenge, without it the game becomes pretty boring) suggested by Leajey
Negative Boost Neutralizer (ditto from the last suggestion, plus this one gets rid of the challenge of correctly placing boosts) suggested by Leajey
Dragon Hell Habitat [A thoroughly unpleasant and painful Habitat] (unpleasant, relgious and definitely impossible) suggested by WolfiethezWolf
Useless Island [A 2 million island which looks cool but is completely useless, can't be decorated, built on, cleared etc., it also may cause damage to the surrounding islands] (while it's not impossible, i'd like to think that something this improbable and annoying would never be added) suggested by an anon
Dragon Petting Zoo [pet baby dragons, just be careful not to get burned, electrocuted, prickled etc.] (lot's of fun but highly improbable) suggested by an anon
Plant Stone [a decoration which fits nicely with the plant habitats, if visitors come to near or heaven forbid touch it they get turned into poison ivy (decorations perhaps)] (turning people into plants isn't very family friendly but I think most of us have wished we could do something like that with the useless visitors at least once) suggested by Superhappyyoshis (aka Grifflin)
Trombone Decoration [emits bubble waves and forces dragons to become lvl. Negative 10 and you have to feed it up to lvl1 in 10 minutes, or It will die] (again with the death and destruction, but very creative =) ) suggested by Polinarose
Glitter Factory [dragons can buy souvenirs and add glitter to their wings] (souvenirs for dragons O.O, the glittery wings would be cool but the extra animation would make things lag and be complex to keep track of) suggested by Polinarose
Coco Bean Farm [a farm except it produces junk food which levels down dragons -

chocolate bar 1000 Coins 30 Junk Food 10 Minutes M&Ms 10000 Coins 80 Junk Food 45 minutes Cake 100000 coins 650 Junk Food 2 Hours] (lol, gotta love the good nutrition message combined with something that is completely useless and therefore impossible in game) suggested by an anon

Dragon Dressups [a building which lets you put your dragons into costumes] (too complex, but lol Dragons in Dresses) suggested by TasBlader
Dragon Lab [A building which lets you mutate your dragons, gives them extra heads etc.] (even more complex than dressing up dragons) suggested by TasBlader
2nd Nursery (we already have one nursery and an upgrade to it is much more likely than a 2nd buiilding) suggested by an anon
Egg Bowling Alley [bowl with dragon eggs you have displayed, the rarer the egg the better the prizes. Building Avalaible at lv 20 or lv 15. buy for 5 million dc] (crazy fun but massively complex and highly unlikely) suggested by Popop123
Limited Island [an island only available as part of a limited time event] (massively annoying for all those who miss out on it) suggested by an anon
Refrigerator [Lengthens time until food spoils. Unlocks at level 20, and costs 1.5 M dragon cash. Can be upgraded to Super refrigerator, which lengthens time even more.] (links to Spoiled Treats suggestion) suggested by an anon.

GAME MECHANICS
Interactive Animated Decorations [if you put the egg pedestals too close to the Volcano they egg-splode (couldn't resist :P) but the Vernal Fountain can wash away any shrapnel] (way too complex and messy) suggested by Dragon trip
Dragon Rampage [Dragons occasionally escape from their habitats and you have to hunt them down before they eat visitors, fight with opposite dragons and generally cause mayhem] (way too complex and also too violent for an all ages game like DragonVale) suggested by an anon.
Realistic Weather [thunderstorms, sunsets, moon phases.. that sort of thing] (too complex and that much animation would lead to lag issues) suggested by an anon.
Dragon Battles [deathmatch, battle royale or 2D/3D fighter style] (they'd all be cool but they change the way the game works and are probably too violent for an all ages game like DragonVale) suggested by Wolfiethezwolf
Personally Customized Dragons

[make your own dragons] (way too complex) suggested by

Marman02
Limited Decorations Buy Another Option (improbable, goes against the concept of limited) suggested by DestroyerKhaos
First Person View Option [see your park in 3D as if you were really there] (requires a massive change, lots of 3D rendering and all for something that is just pretty, sounds impossible to me, but wouldn't it be cool =) ) suggested by Kurita-blast!
Dragon Genders [Required Male + Female to breed and different designs for each gender] (-head explode- that would add so much craziness to the game, definitely impossible) suggested by DeadMan Grimoire
Individual Dragon Happiness Requirements [petting, games etc. if you fail to fulfill the requirements the dragons go on a killing spree causing the grieiving familes to sue you and your park to be shut down] (O.O and I thought the Dragon Rampage was too violent, definitely impossible) suggested by Bnm786
Dragon Uprising [the dragons take over the park, and start acting as guests with the humans being treated like the dragons were] (lol, it's DragonVale not HumanVale, but definitely amusing not to mention impossible) suggested by Adithæ24
Dragon Mortality [in time the dragons grow old and die, higher level = longer life, hibernation keeps them alive, as does the fountain of youth] (too depressing, leave DV for a week while on holiday and come back to find all your dragons are dead =( ) suggested by DeadMan Grimoire
Hidden Epic Dragons [epic dragons, or limited dragons which are "hidden" (not in the market)] (way too annoying plus hidden dragons don't make Backflip a profit) suggested by DeadMan Grimoire & the Chat Room
Animal Element [Monkeys, Bears, Dogs etc.] (we do have things like Reindeer, Firefly and Butterfly but an entire element? crazy) suggested by an anon.
Dragon Hunting Spree [Hunt basic dragons with immobolizer darts, if you hunt down 2 you can force breed to get a hybrid or a rare Assassin Dragon] (difficult to implement, completely changes the way the game works) suggested by an anon (

anon given nickname

XxMageRuxX)

Breeding Gemstone Dragons [Gemstone Dragons able to breed together with other Gemstone dragons, possibly just the same type] (Completely changes how the Gemstone dragons work) suggested by Destroyerkhaos and Tasblader
Breeding Epic & Normal Dragons Together (Completely changes how Epic dragons work and would make a crazy number of potential new combinations (too many for the current park size to handle) suggested by Destroyerkhaos
Dragon Food Eating Contest [Dragons compete to see how much they can eat] (too different from the current game, but gotta love the nom nom nom =) ) suggested by Superhappyyoshis
Guest Rampage [A 1% chance that one of your visitors will go crazy and kill a dragon] (very weird but wouldn't an animated live action replay of the event look cool =) ) suggested by an anon
Dragon Disease [A 1% chance that one of your dragons will become diseased, if it does it slower gets weaker and dies, then infecting another dragon with the disease] (a bit too grim and depressing for the game, could be fun if there was a way to cure it though) suggested by an anon
Glass Dragon Element [an element of glass based dragons] (O.o too hard for combo ideas, doesn't make much sense as an element) suggested by Superhappyyoshis
Dragon Mutatations [whenever a dragon breeds there's a low chance it will have a mutant baby it shouldn't have been able to get] (throws of an already very complicated breeding system, mutant dragon babies would be cool though =) ) suggest by an anon
Zombie Infestation [visitors have a low chance of being infectious zombies, if they do they'll slowly infect all the other visitors, zombie visitors also have a low chance of infecting the dragons, if they do the zombie dragon will earn negative and infect the other dragons in it's habitat, zombification can be cured by paying 100k for a human zombie or 200k for a dragon zombie] (zombies aren't particularly family friendly and this creates a completely different type of game, it would be fun though) suggested by an anon
No Breeding Day [for the one day no dragons can be bred, they can only be bought] (this would make people hate Backflip so it's a big no-no) suggested by an anon
IAP Only Dragons [Dragons that can only be gotten through in app purchases] (ditto from the No Breeding Day suggestion, things that would turn people against BFS are definitely impossible) suggested by an anon
Dragon Loaning [You can loan dragons to others for coins and they can only use them for breeding purposes] (all the same problems as trading, plus added complexity, impossible) suggested by TasBlader
Tour Guides [Buy tour guides and route them around. Groups will follow the tour guide. when the group is nearby a habitat, all dragons in it will have earnings slightly increased.] (too complex but I love the idea of visitors going around in a tour group) suggested by an anon
DInosaur Element Dragons (if a single dino dragon was improbable, an entire element is even more so, it's DragonVale not DinoVale after all) suggested by TasBlader
Cussword Autonames (inappropriate autonames would get a laugh but definitely aren't family friendly) suggested by an anon
Breeding Bonanza Weekend [all limited dragons become available to be bred again for a single weekend] (ruins the concept of "limited" and backflip would have to keep doing it for all the people who missed the first one) suggested by an anon
Spoiled Treats [After a certian amount of time, treats will spoil and can't be fed to dragons. This can be reversed using gems, or using refrigerators] (treats etc. not spoiling is one of the good things about DragonVale, please no) suggested by an anon.
Curious visitors [Visitors will walk in dragon habitats occasionally. This upsets the dragons, so they will earn less. There is a chance the visitor will get attacked. you must tap the visitor to remove it.] (lol more interactivity and danger for visitors, too violent) suggested by an anon
Falling Visitors [Visitors will wonder near the edge, and will sometimes fall to their death. There is a 50% chance of getting sued. Whenever a visitor falls, there will be a loud screaming sound interupting normal music] (ditto from above) suggested by an anon
Singer Element Dragons [with Singer dragons. E.G. Gotye dragon, Adele dragon etc.] (crazily cool, but copyright and setting concerns kill this idea for the real game) suggested by TasBlader
"Jerry Visitors" [

a stick figure that can't fall and any other visitor it touches will turn into more jerry visitors. has a 00000000000000000000.001 chance of coming through a portal.] (weird whacky and impossible) suggested by an anon.
CROSSOVERS
Angry Birds - DragonVale Crossover Game (whichever way it was done, angry birds being bred and kept in habitats or DragonVale dragons being catapulted after the wizards who stole their eggs it would be very cool, the chances of the two game companies agreeing to do a crossover of these highly successful games though is very very small) suggested by Chocobalt
Cut the Rope - DragonVale Crossover Game [Try to feed treats to dragons by cutting the ropes, unlocking new characters by breeding, also by cutting ropes] (yup these crossovers are highly amusing by also highly unlikely) suggested by an anon
Doodle Jump - DragonVale Crossover Game [

Your dragon has lost it's power to fly, and it must jump up a series of platforms to get treats and preform temporary boosts] (same as the other crossover ideas cool but improbable) suggested by an anon

Big Fish Game - DragonVale Crossover Game [

A dragon goes around eating treats to get bigger, while avoider other bigger- possibly more violent- dragons, crossover with [

http://www.maniacworld.com/big_fish.htm This Game] ] (unlike the other ones it's probably not a problem of two big companies allowing their concepts to be combined, but it's unlikely that Backflip would combine it with any other game not of their own desgin) suggested by an anon
Plants vs Zombies - DragonVale Crossover Game [dragons (maybe plant dragons :P) have to defeat a horde of invading zombies with their breath, all the while collecting treats to level up the dragons] (fun but yeah crossover super improbability) suggested by an anon
Tiny Wings - DragonVale Crossover Game [

You breed dragons from the game and you try to make them glide by making them slide on hills. The dragon you start with is the

Fire Dragon

.] (like all crossover ideas it's impossibly improbable, but man, wouldn't it be cool =) ) suggested by

Superhappyyoshis
Dragonmon [A DragonVale Pokemon Crossover Game as typified by Pickle786™'s fanfic stories] (lol, the difference in scale and value between pokemon and DV makes this the most impossible crossover idea yet, fun though) suggested by Wolfiethezwolf
Bejeweled - DragonVale crossover game [swipe the gemstone dragon/their eggs like Bejeweled] (yup the normal crossover impossibilities apply, fun though) suggested by Destroyerkhaos
Fruit Ninja - DragonVale crossover game [

You are a dragon, and you cut dragon treats with your claws to level up. when you level up, you get special cutting perks... you can also select from a host of breedable dragons] (crazy cool, but impossible) suggested by an anon

Animal Jam- Dragonvale Crossover game [You create a dragon, name it, and put clothing on it. You decorate your own habitat. Some features and dragons are for members only.] suggested by Superhappyyoshis
Funghi Gardening - DragonVale Crossover game [

When you make various habitats, and put treats out for bait, dragons will show up. Dragons can be sold for money] (another wonderfully crazy crossover idea, for one of my other favorite app games no less =) ) suggested by an anon
OTHER
DragonVale Themepark [DragonVale themed statues with elemental breath, DragonVale themed rides, games and mechandise and an exclusive to the park Themepark Dragon] (crazily impossible, Dragonvale is popular but not themepark level popular, but wouldn't it be awesome) suggested by an anon.
Advertising Stunt Model Dragons [

backflip studios builds flying dragon model that breath "elemental breath" as an advertising stunt] (soo unlikely, but soo cool) suggested by an anon

DragonVale: Rainbow Philosophies

[a second variant of DragonVale (like Dragonstory did)] (please don't backflip) suggested by Silvermarsh
Dragoncon [A DragonVale convention] (too small a fanbase for a convention, i'd go though =) ) suggested by an anon
DragonVale: The Movie (yup, totally impossible but oh so cool) suggested by an anon
OTHER STUFF
Well that's pretty much it, if you have a great but impossible idea that you want added please post it in the comments and i'll add it to the blog as soon as I can.
A link back to my blogdex if you want to check out other blogs like this one.